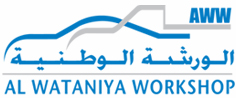 News & Updates
AWW opened a new section for Ladies.
Opened Oman Branch in Muscat & Suhar.
AWW opened a new section for Interior and Exterior cleaning.
AWW opened a special section for tinting.
Celebrate the 40th National Day with AWW.
EPPCO Lubricants signs five-year exclusive agreement with Al Wataniya Workshop
EPPCO Lubricants has signed an exclusive five-year supply agreement with Al Wataniya Workshop, part of the Arenco Group of Companies. Al Wataniya Workshop has two major companies, Thrifty and Dollar Rent-A-Car, with over 14,000 vehicles including cars and buses.
Ahmed Al Mulla, Senior Manager of EPPCO Lubricants, and Khalid Bin Thenaiyeh, Deputy Director of Al Wataniya Workshop, signed the agreement, recently.
As per the service contract, EPPCO Lubricants will provide its high quality, environmentally friendly products to Al Wataniya Workshop to meet the needs of its large fleet of vehicles.
EPPCO Lubricants products conform to ISO 9001:2000 quality certifications in addition to complying with the highest international standards and specifications, such as API, ACEA, JASO, and OEM.